SouthWestern Maine Region
Lakefront Property for Sale in Southern Maine
About SouthWestern Maine
Encompassing York County, Cumberland  County, Oxford County and Androscoggin County, this part of Maine includes the Greater Sebago Lakes Region and Maine's largest city, Portland.
A major advantage for finding a lakefront home for sale in Southern Maine is the proximity to the Boston metropolitan area. Many of the lakes and ponds in this region are less than 2 hours from downtown Boston, making it a premier destination to get away from the hustle and bustle to a wide range of recreational activities like golfing, skiing, snowmobiling, hunting, fishing and hiking.
Sebago Lake, with a surface area of 30,513 acres, is the second largest lake in Maine. The Greater Sebago Lakes Region contains nearly 50 lakes and ponds, with a wide variety of lakefront properties for sale, including seasonal cottages and year-round lakefront homes.
Among the popular smaller lakes nearby are Panther Pond, Little Sebago, Long Lake, Thompson Lake, Coffee Pond, Brandy Pond, Moose Pond, Pleasant Lake and Crescent Lake.
Further north, Mooselookmeguntic Lake is the fourth largest Maine lake, with a 16,300 acre surface area. There are numerous islands on the lake, but two in particular stand out: Toothacre Island and Student's Island, which have many rustic summer camps. Fishing and camping are the most popular activities on this lake, and there are facilities nearby to support these pastimes.
Portland, which is in easy driving distance from many of the lakes in this region, has transformed itself from a rough-and-tumble seacoast town to one of the best U.S. cities to live in. From the Old Port working waterfront to a lively arts district to the creative foodie scene which can hold its own against restaurants anywhere.
Another advantage to finding a lakefront home in Southern Maine is the accessibility to some of the world's prettiest beaches. Maine's first 30 miles of coast from the New Hampshire border is like the Riviera of New England, with long stretches of soft white sand beaches.
Let us help you find the perfect lakefront home in Southern Maine by using our Customized Property Search feature below.
Browse Lakefront Listings In Southern Maine
MAP SEARCH
Click on a County to view current lakefront homes and cottages for sale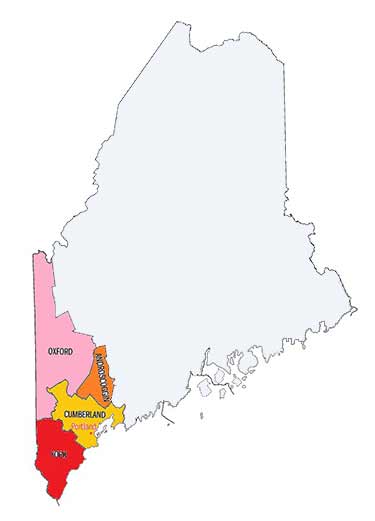 For Buyers
Our specialty is providing buyers with an easy way to search for their "dream" property — just click on
Customized Property Search
, tell us about the property you would like to find, and we will do our very best to find it for you…you will find this a whole lot easier than wading through many pages of listings on other websites!
Maine's Lakes & Ponds List
This list of lakes and ponds, by county, includes only those that are 100 acres or more in size.
Androscoggin County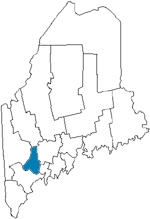 | | | | |
| --- | --- | --- | --- |
| Name | Size/Acres | Max Depth/ft. | Maine Atlas Map # |
| Allen Pond | 183 | 44 | 12 |
| Androscoggin Lake | 3826 | 38 | 12 |
| Auburn Lake | 2260 | 118 | 11 |
| Bear + Little Bear Ponds | 422 | 28 | 11 |
| Brettuns Pond | 154 | 42 | 11 |
| Little Wilson Pond | 111 | 56 | 11 |
| Long Pond | 203 | 18 | 11 |
| Lower Range Pond | 290 | 41 | 5 |
| Middle Range Pond | 366 | 66 | 5 |
| Moose Hill Pond | 99 | 42 | 12 |
| No Name Pond | 143 | 32 | 12 |
| Pleasant Pond | 177 | 68 | 11 |
| Round Pond | 166 | 32 | 11 |
| Sabattus Pond | 1787 | 19 | 12 |
| Taylor Pond | 625 | 44 | 11 |
| Tripp Pond | 768 | 36 | 5 |
| Upper Range Pond | 391 | 38 | 5 |
Cumberland County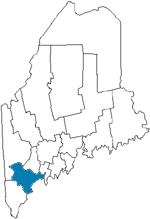 | | | | |
| --- | --- | --- | --- |
| Name | Size/Acres | Max Depth/ft. | Maine Atlas Map # |
| Bonny Eagle Lake | 211 | 22 | 4 |
| Brandy Pond | 762 | 44 | 4,5 |
| Coffee Pond | 137 | 70 | 5 |
| Crescent Lake | 716 | 54 | 5 |
| Crystal Lake | 461 | 65 | 10 |
| Crystal Lake | 189 | 59 | 5 |
| Dundee Pond | 173 | 42 | 5 |
| Forest Lake | 198 | 38 | 5 |
| Great Pond | 131 | 5 | 3 |
| Hancock Pond | 858 | 59 | 4 |
| Highland Lake | 1401 | 40 | 4,10 |
| Highland Lake | 640 | 67 | 5 |
| Ingalls Pond | 141 | 28 | 4 |
| Island Pond | 166 | 48 | 10 |
| Little Sebago Lake | 1898 | 52 | 5 |
| Moose Pond | 1694 | 70 | 4 |
| North Gorham Pond | 128 | 23 | 5 |
| Otter Pond | 90 | 21 | 4 |
| Panther Pond | 1430 | 65 | 5 |
| Parker Pond | 166 | 19 | 5 |
| Peabody Pond | 735 | 64 | 4 |
| Pleasant Lake | 1077 | 62 | 5 |
| Raymond Pond | 346 | 42 | 5 |
| Sabbathday Lake | 340 | 68 | 5 |
| Sebago Lake | 28,771 | 316 | 4 |
| Southeast Pond | 173 | 30 | 4 |
| Thomas Pond | 442 | 64 | 5 |
| Trickey Pond | 311 | 57 | 4 |
| Watchic Pond | 448 | 41 | 4 |
| Wood Pond | 456 | 29 | 4 |
Oxford County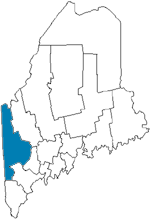 | | | | |
| --- | --- | --- | --- |
| Name | Size/Acres | Max Depth/ft. | Maine Atlas Map # |
| Anasagunticook Lake | 568 | 54 | 11 |
| Aziscohus Lake | 6,700 | 60 | 28 |
| B Pond | 471 | 110 | 18 |
| Bear Pond | 218 | 72 | 10 |
| Beaver Pond | 128 | 8 | 4 |
| Beaver Pond | 179 | 72 | 18 |
| Bickford Pond | 237 | 69 | 4 |
| Big Concord Pond | 135 | 12 | 11 |
| Bryant Pond | 278 | 63 | 10 |
| C Pond | 173 | 36 | 18 |
| Colcord Pond | 304 | 105 | 4 |
| Ellis Pond | 896 | 43 | 18 |
| Granger Pond | 125 | 28 | 4 |
| Hogan Pond | 177 | 34 | 11 |
| Horseshoe Pond | 132 | 40 | 10 |
| Howard Pond | 109 | 118 | 18 |
| Keewaydin Lake | 307 | 52 | 10 |
| Kecka Lake | 467 | 42 | 10 |
| Keys Pond | 192 | 42 | 10 |
| Kezar Lake | 2,510 | 155 | 10 |
| Kezar Pond | 1,447 | 12 | 4,10 |
| Labrador Pond | 115 | 13 | 11 |
| Lincoln Pond | 340 | 95 | 28 |
| Little Ellis Pond | 297 | 41 | 18 |
| Little Moose Pond | 181 | 43 | 10 |
| Long Pond | 473 | 42 | 10 |
| Lovewell Pond | 1,065 | 45 | 4 |
| Lower Kimball Pond | 486 | 65 | 10 |
| Marshall Pond | 102 | 41 | 11 |
| Mooselookmeguntic Lake | 16,300 | 132 | 18,28 |
| Moose Pond | 160 | 16 | 11 |
| North Pond | 147 | 10 | 10,11 |
| North Pond | 128 | 50 | 11 |
| North Pond | 284 | 50 | 11 |
| Parmachenee Lake | 912 | 93 | 28 |
| Pennesseewassee Lake | 922 | 48 | 10,11 |
| Pleasant Pond | 239 | 15 | 4 |
| Pleasant Pond | 115 | 14 | 11 |
| Pond in the River | 512 | 40 | 18 |
| Richardson Lake | 7,100 | 100 | 18 |
| Sand Pond | 141 | 56 | 10 |
| Saturday Pond | 178 | 25 | 11 |
| Songo Pond | 224 | 25 | 10 |
| South & Rounds Pond | 284 | 71 | 10 |
| Stanely Pond | 137 | 75 | 4 |
| Sterns Pond | 255 | 47 | 10 |
| Sturtenant Pond | 518 | 58 | 17 |
| Thompson Lake | 4,426 | 121 | 5,11 |
| Twitchell Pond | 158 | 47 | 10 |
| Umbagog Lake | 7,850 | 48 | 17 |
| Virginia Lake | 128 | 26 | 10 |
| Walden Pond | 256 | 44 | 4 |
| West Richardson Pond | 423 | 41 | 28 |
| Whitney Pond | 170 | 24 | 11 |
| Worthley Pond | 354 | 49 | 11 |
York County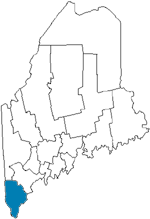 | | | | |
| --- | --- | --- | --- |
| Name | Size/Acres | Max Depth/ft. | Maine Atlas Map # |
| Adams Pond | 210 | 22 | 2 |
| Balch Pond | 704 | 44 | 2 |
| Bauneg Beg Pond | 160 | 29 | 2 |
| Bonnie Eagle Lake | 211 | 22 | 4 |
| Bunganut Pond | 325 | 43 | 2 |
| Estes Lake | 387 | 30 | 2 |
| Great East Lake | 1,768 | 102 | 2 |
| Holland Pond | 192 | 32 | 4 |
| Horn Pond | 205 | 31 | 2 |
| Horne Pond | 166 | 58 | 4 |
| Kennebunk Pond | 224 | 43 | 2 |
| Little Ossipee Flowage | 1,005 | 25 | 2 |
| Little Ossipee Lake | 564 | 72 | 2 |
| Long Pond | 275 | 33 | 4 |
| Mousam Lake | 900 | 88 | 2 |
| Murdock Lake | 300 | 13 | 2 |
| Northeast Pond | 778 | 49 | 2 |
| Poverty Pond | 166 | 17 | 2 |
| Roberts/Wadley Ponds | 203 | 21 | 2 |
| Spaulding Pond | 118 | 19 | 2 |
| Square Pond | 910 | 44 | 2 |
| Swan Pond | 147 | 40 | 2 |
| Townhouse/Milton Ponds | 371 | 55 | 2 |
| West Pond | 140 | 28 | 4 |
| Wilson Pond | 320 | 44 | 2 |