Central Maine Region
Central Maine Waterfront Property for Sale
About Central Maine
The five central counties of Maine (Kennebec, Franklin, Somerset, Piscataquis and Penobscot) contain 4 major lakes regions: Belgrade Lakes, Rangeley Lakes, Moosehead and Katahdin — all offering a wide variety of lakes and Maine lakefront properties.
The Belgrade Lakes Region is located just a few miles from interstate 95 and Augusta, the state capitol. It is Central Maine's premier lake area for recreation, relaxation, and wholesome family fun. It is famous for its sparkling scenic streams and chain of 7 lakes (East Pond, Great Pond, Long Pond, Messalonskee Lake, McGrath Pond, North Pond and Salmon Pond), its panoramic views of fields, hills and woodlands, and its inviting towns and villages. Whether a destination for vacationing or to find a Central Maine lakefront home for year-round living, the Belgrade Lakes Region provides activities for all ages: golfing, boating, excellent fishing, hiking, many seasonal events and a variety of shops and restaurants to explore.
The Rangeley Lakes Region consists of six major lakes (Rangeley, Mooselookmeguntic, Richardson, Aziscohcos, Umbagog, and Kennebago) plus hundreds of smaller lakes and ponds. Historically known as a fisherman's paradise, this area offers a multitude of outdoor activities for both young and old — from alpine skiing at Saddleback Ski area, hiking trails including the Appalachian Trail, to fishing for trophy-sized Salmon and Brook Trout, and groomed snowmobile trails offering some of the best riding in the Northeast. This sparsely populated region is a great place to get away from it all and to find a Maine lakefront home for raising a family or to retire.
The Moosehead Region is one of the most stunningly beautiful places in America. Moosehead Lake is truly the crown jewel of Maine lakes at over 40 miles long, 20 miles wide and covering 75,000 acres. A century ago, fashionable visitors from New York and Boston arrived by train to summer in the grand hotels that used to be on the shores of Moosehead Lake to escape the heat, noise and crowds of city life. Now, it is the ideal destination to recharge and reboot amid pristine solitude and vast wilderness. Whether you are looking to fish the lake, hike the vast forest trails, catch a glimpse of a moose, or take a lake cruise on the steamship Katahdin,Moosehead has it all.  So, picture yourself here with your own private Maine lakefront home.
The Katahdin Region is one of the best kept secrets in all of New England. Home to Baxter State Park's 200,000 acres of wilderness and Mt. Kahahdin, the state's highest peak at 5,267 feet and at  the eastern end of the Appalachian Trail, this area is located off the beaten path just an hour's drive from Bangor and the Interstate. The lakes and rivers in this area are considered to be among the best in the world for kayakers, canoeists, and whitewater thrill seekers. The Katahdin Region provides exciting family wilderness adventures and ideal place to vacation or to live.
Let us help you find the perfect lakefront home in Central Maine by using our Customized Property Search feature below.
Browse Lakefront Listings In Central Maine
MAP SEARCH
Click on a County to view current lakefront homes and cottages for sale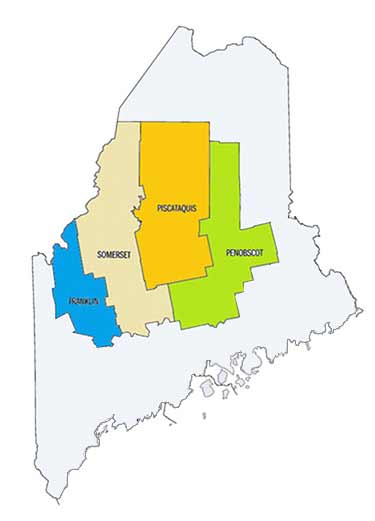 For Buyers
Our specialty is providing buyers with an easy way to search for their "dream" property — just click on
Customized Property Search
, tell us about the property you would like to find, and we will do our very best to find it for you…you will find this a whole lot easier than wading through many pages of listings on other websites!
Maine's Lakes & Ponds List
This list of lakes and ponds, by county, includes only those that are 100 acres or more in size.
Franklin County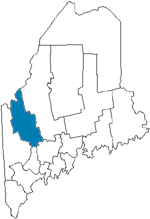 Name
Size/Acres
Max Depth/ft.
Maine Atlas
Map #
Arnold Pond
148
62
38
Beaver Mountain Lake
543
52
18
Big Island Pond
350
40
28
Chain of Ponds
700
106
38,28
Clearwater Pond
751
129
20
Crowell Pond
211
10
20
Dodge Pond
230
51
28
Flagstaff Lake
20,300
48
29
Gull Pond
281
40
28
Haley Pond
170
23
28
Jim Pond
320
125
29
Johns Pond
267
49
28
Kennebago Lake
1,700
116
28
Little Kennebago Lake
190
56
28
Long Pond
254
114
18
Loon Lake
192
50
28
L Pond
100
14
28
Mooselookmeguntic/
Cupsuptic
16,300
123
18
Mount Blue Pond
134
38
19
Norcross Pond
122
24
20
North Pond
170
23
20
Parker Pond
128
26
20
Pease Pond
107
19
19
Porter Lake
527
88
20
Quimby Pond
165
12
28
Rangeley Lake
6,000
149
28
Redington Pond
90
17
29
Round Pond
166
50
28
Saddleback Lake
358
14
29
Sand Pond
103
23
20
Tea Pond
90
115
29
Tim Pond
314
46
28
Varnum Pond
370
75
19
Webb Lake
2,146
42
19
Wilson Pond
480
88
19
Kennebec County
Name
Size/Acres
Max Depth/ft.
Maine Atlas
Map #
Androscoggin Lake
3,826
38
12
Annabessacook Lake
1,420
49
12
Berry and Dexter Ponds
290
25
12
Branch Pond
322
38
13
China Lake
3,922
85
13
Cobbosseecontee Lake
5,543
100
12
Cochnewagan Pond
385
28
12
David Pond
284
37
12
East Pond
1,823
27
20
Echo Lake
1,061
117
12
Flying Pond
360
80
20
Great Pond
8,239
69
20,12
Hutchinson Pond
100
24
12
Jamies Pond
107
75
12
Little Togus Pond
93
22
13
Long Pond
2,714
106
12,20
Long Pond
747
16
13
Lovejoy Pond
324
32
21
Lovejoy Pond
366
22
12
Lower Narrows Pond
255
106
12
Maranacook Lake
1,673
128
12
Messalonskee Lake
3,510
113
12,20,21
Minnehonk Lake
99
73
12
Mud Pond
112
12
13
Nehumkeag Pond
173
15
13
North and Little Ponds
2,115
20
20
Parker Pond
1,610
76
12,20
Pattee Pond
712
27
21
Pleasant Pond
746
26
12
Pocasset Lake
587
20
12
Salmon Lake/
McGrath Pond
1,048
57
20
Sand / Woodbury Ponds
613
82
12
Spectacle Pond
139
100
13
Threecornered Pond
195
33
13
Threemile Pond
1,077
37
13
Tilton Pond
114
44
12
Togus Pond
648
49
13
Torsey Pond
770
45
12
Upper Narrows Pond
279
54
12
Webber Pond
1,252
41
13
Wilson Pond
574
42
12
Penobscot County
Name
Size/Acres
Max Depth/ft.
Maine Atlas
Map #
Bottle Lake
281
42
35
Bowlin Pond
115
12
51
Brewer Pond
881
48
23
Cambolasse Pond
211
32
44
Caribou / Long / Egg Ponds
825
46
44
Cedar Lake
685
25
43
Center Pond
192
12
44
Chemo Pond
1,146
24
23
Cold Stream Pond
3,628
104
33
Cut Lake
294
9
57
Davis Pond
417
14
23
Duck Lake
256
24
45
Endless Lake
1,499
36
43
Eskutassis Lake
876
40
34
Etna Pond
361
12
22
Fields Pond
182
31
23
Fitts Pond
106
64
23
Flatiron Pond
284
18
43
Folsom Pond
282
18
43
Garland Pond
102
14
32
Green Pond
110
16
34
Hay Lake
134
24
51,57
Hermon Pond
461
17
22
Holbrook Pond
280
28
23
Hopkins Pond
442
65
24
Horseshoe Lake
400
25
35
Jerry Pond
272
13
51
Junior Lake
3,866
70
35
Katahdin Lake
717
28
51
Keg Lake
378
40
35
Little Mattamiscontis Lake
275
12
43
Little Pushaw Pond
411
18
32
Little Salmon Stream Lake
218
7
52
Lombard Lake
225
38
44
Lowell Lake
115
6
44
Lower Shin Pond
560
25
51
Lunksoss Lake
288
15
51
Madagascal Ponds
790
35
34
Matagamon Lake
4,165
95
51,57
Mattakeunk Lake
570
29
44
Mattamiscontis Lake
1,025
36
43
Mattanawcook Pond
832
22
44
Middle Jo-Mary / Turkeytail Lakes
1,152
24
42
Millimagassett Lake
1,410
62
57
Millinocket Lake
8,960
86
43,51
Mill Privilege Lake
109
28
45
Mud Pond
385
12
33
Nollesemic Lake
660
22
43
Number Three Pond
659
34
34
Parks Pond
124
28
23,24
Pemadumcook Lakes
18,300
101
42,43
Pickett Mountain Pond
173
7
52
Pleasant / Mud Lakes
325
16
52
Pleasant Lake
768
16
22
Plymoth Pond
480
10
22
Puffers Pond
102
52
32
Pushaw Lake
5,056
28
23,33
Round Pond
134
30
22
Rush Pond
243
12
52
Salmon Stream Lake
659
15
44
Saponac Pond
922
16
34
Sawtelle Deadwater
218
30
51,57
Scraggely Lake
2,758
42
35,45
Scraggly Lake
842
70
57
Sebasticook Lake
4,288
50
22
Seboeis Grand Lake
2,483
33
57
Shaw Lake
211
30
45
Smith Pond
206
14
43
Snag Pond
160
13
44
Snowshoe Lake
638
44
57
South Branch Lake
2,035
28
43
Sweets Pond
125
24
23
Sysladobsis Lake
5,376
66
35
Umcolcus Lake
630
17
58
Upper Cold Stream Pond
685
66
34
Upper LaPomkeag Lake
217
6
57
Upper Pond
506
31
34,44
Upper Shin Pond
544
64
51
Upper Sysladobsis Lake
1,142
42
34
Wassookeag Lake
1,062
86
32
White Horse Lake
218
11
57
Piscataquis County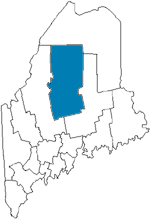 Name
Size/Acres
Max Depth/ft.
Maine Atlas
Map #
Allagash Lake
4,260
89
55
B Pond
644
34
42
Big Beaver Pond
329
24
57
Big Benson Pond
320
83
42
Big Greenwood Pond
211
109
41
Big Hurd Pond
250
24
49
Big Indian Pond
280
68
41
Big Lyford Pond
152
40
42
Big Pleasant Lake
979
35
56
Big Pine Pond
164
33
49
Big Pleasant Pond
195
52
42
Boyd Lake
1,005
20
32,33
Branns Mill Pond
271
15
32
Brown Pond
104
6
57
Burden Pond
197
32
42
Burnham Pond
426
9
41
Carpenter Pond
160
50
56
Caucomogomoc Lake
5,081
79
55
Center Pond
403
19
32
Chamberlain Lake
11,084
154
55,56
Chandler Pond
115
30
56
Chase Lake
403
31
56
Chemquasabamticook Lake
2,892
105
55
Chesuncook Lake
28,200
150
49,50
Chesuncook Pond
272
30
50
Churchill / Heron Lakes
2,923
62
55,56
Clear Lake
614
86
56
Cliff/Twin Lakes
563
65
56
Coffelos Pond
196
24
50
Cooper Pond
271
15
42
Crawford Pond
390
62
42
Crescent Pond
320
68
55
Cuxaexis Lake
592
10
50
Daggett Pond
461
20
55
Deer Pond
181
36
49
Ebeemee Lake
940
47
42
Eagle Lake
5,317
124
55,56
Echo Lake
115
45
56
Female Pond
102
65
42
Fifth Mesquacook Lake
358
5
56
First Buttermilk Pond
384
119
32
First Davis Pond
128
54
31
First Debsconeag Lake
227
150
42,50
Fourth Musquacook Lake
749
40
56
Frost Pond
198
39
50
Hale Pond
168
58
50
Harrington Pond
1,332
134
50
Harrow Lake
467
30
56
Haymock Lake
704
61
56
Hebron Lake
525
102
31
Henderson Pond
195
91
42
Holbrook Pond
224
80
50
Horseshoe Pond
160
35
41
Houston Pond
694
92
42
Hudson Pond
128
10
56
Hurd Pond
640
92
50
Indian Pond
1,222
52
56
Indian Pond
299
52
42
Island Pond
214
32
56
Johnson Pond
197
58
55
Kingsbury / Mayfield Ponds
531
62
31
Little Beaver Pond
122
25
57
Little Benson Pond
152
33
42
Little Lobster Lake
230
36
49
Little Sourdnahunk Lake
102
15
50
Lobster Lake
230
36
49
Long Pond
371
50
42
Long Pond
643
64
41
Longely Pond
749
10
49
Loon Lake
1,140
45
49
Lower Hudson Pond
108
50
56
Lower Jo-Mary Lake
1,912
64
42
Lower Wilson Pond
1,380
106
41
Lower Togue Pond
364
53
51
Manhanock / Harlow Ponds
595
36
31
Millinocket Lake
8,960
86
43,51
Millinocket Lake
2,701
50
57
Monson Pond
359
92
31
Moosehead Lake
74,890
246
40,41,48,49
Mooseleuk Lake
422
6
57
Mud Pond
1,357
12
56
Munsungan Lake
1,415
123
56
Nahmakanta Lake
1,024
110
42,50
Narrow Pond
151
6
55
Onawa Lake
1,344
76
41
Otter Pond
109
9
55
Passamagamet Lake
461
34
42,50
Penobscot Pond
279
20
42
Pemadumcook Chain
18,300
101
42,43
Pillsbury Pond
301
2
56
Piper Pond
420
56
31
Poland Pond
490
34
55
Pollywog Pond
147
58
50
Priestly Lake
645
50
55
Prong Pond
427
27
41
Ragged Lake
2,712
54
49
Rainbow Lake
1,664
130
50
First Roach Pond
3,270
123
41
Second Roach Pond
970
46
42
Third Roach Pond
570
28
42
Fourth Roach Pond
266
38
42
Rocky Pond
115
6
42
Round Pond
375
17
55
Rum Pond
245
77
41
Schoodic Lake
7,168
188
32,42
Sebec Lake
6,803
155
31,32
Seboeis Lake
4,201
69
43
Second Debsconeag Lake
189
28
50
2nd/3rd West Branch Ponds
214
20
42
Silver Lake
305
28
42
Snake Pond
275
42
56
Soper Pond
246
11
56
Sourdnahunk Lake
1,394
46
50
Spectacle Pond
177
38
41
Spencer Pond
980
16
41,49
Spider Lake
890
59
56
Telos/Round Ponds
2,276
86
50,56
Third Debsconeag Lake
1,011
162
42,50
Third Lake
474
37
56
Thissell Pond
141
42
50
Trout Pond
145
20
42
Umbazooksus Lake
1,590
15
49,55
Upper Ebeemee Lake
196
20
42
Upper Jo-Mary Lake
1,873
72
42
Upper Russell Pond
282
16
55
Upper Togue Pond
294
34
51
Upper Wilson Pond
940
64
41
Wadleigh Pond
225
83
42
Wadleigh Pond
157
46
55
Wassataquoik Lake
178
79
50
Webster Lake
531
44
50
Somerset County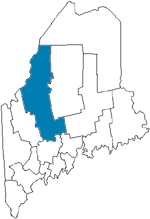 Name
Size/Acres
Max Depth/ft.
Maine Atlas
Map #
Attean Pond
2,745
55
39
Austin Pond
684
34
30,31
Baker Lake
1,231
30
54
Baker Pond
186
74
30
Bald Mountain Pond
1,152
62
31
Barker Pond
106
42
21
Big Grenier Pond
110
15
47
Big Indian Pond
990
28
31
Black Brook Pond
333
22
40
Brassva Lake
8,979
65
40
Canada Falls Lake
2,627
24
48
Cheney Pond
100
35
47
Cold Stream Pond
205
62
40
Crocker Pond
227
30
39
Demo Pond
192
12
40
Dole Pond
704
50
47
Duncan Pond
143
52
47
East Carry Pond
267
30
30
East Pond
1,823
27
20
Embden Pond
1,568
158
20.30
Enchanted Pond
330
185
39
Fahi Pond
196
11
20
Fifth St. John Pond
1,208
20
48
Fish Pond
211
58
40
Flagstaff Lake
20,300
50
29
Foley Pond
124
42
48
Fourth St. John Pond
196
22
48
Frost Pond
170
10
47
Grace Pond
150
41
39
Hancock Pond
320
106
30
Heald Pond
186
42
39
Holeb Pond
1,055
52
39
Indian Pond
3,746
118
40
Jones Pond
130
20
47
King/Bartlett Lake
538
159
39
Kingsbury/Mayfield Ponds
531
62
31
Knights Pond
128
31
40
Lake George
335
68
21
Little Austin Pond
110
33
30
Little Big Wood Pond
713
80
39
Little Indian Pond
145
13
31
Long Pond
845
50
48
Long Pond
3,053
44
40
Long Pond
173
29
40
Luther Pond
154
9
40
Middle Carry Pond
126
42
30
Moose Pond
3,584
50
21,31
Morrill Pond
134
48
21
Moxie Pond
2,370
51
30,40
Nokomis Pond
199
24
22
North/Little Ponds
2,115
20
20
Oaks Pond
102
53
21
Parlin Pond
543
32
40
Penobscot Lake
1,019
104
47
Pierce Pond
1,650
120
30
Ripley Pond
220
12
31
Rock Pond
124
30
39
Rowe Pond
205
43
30
Russell Pond
152
19
48
Sandy Pond
107
41
20
Second St. John Pond
105
5
48
Seeboomook Lake
6,448
48
48
Smith Pond
160
32
31
Shaw Ponds
109
14
29
Sibley Pond
380
33
21
Spencer Lake
1,819
135
39
Spring Lake
762
78
29
Stafford Pond
122
22
21
St. Francis Lake
322
35
54
Third St. John Pond
190
14
48
Tomhegan Pond
356
13
48
Turner Pond
111
34
39
Turner Pond
104
40
54
Wentworth Pond
213
48
31
Wesserunsett Lake
1,446
22
20
West Carry Pond
675
96
30
Whipple Pond
112
4
39
Whites Pond
149
14
21
Wood Pond
2,150
72
39
Wyman Lake
3,146
140
30
Wyman Pond
218
14
31